First of all, me and Gerda was at World Dog Show in Helsinki this weekend, it was 48 junior females in her class, most got VG so i was so happy when she got excellent! Still need some training at indoor shows but i am very pleased with her. Was so fun tomsee alot of nice frenchies from over the world 🙂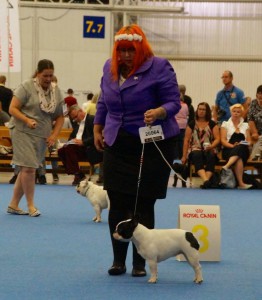 Alos i got great news from Australia!
Thunder Road Cherie Duchess has now collected 163 points, 100 needed for championship.  Happy!!! She was showed this weekend with BOB one day and group 2nd and the otherday as BOS (if i dont got it wrong)
Congrats to family Stansfield of Koziam kennel.